I don't usually share pictures of myself on this blog, but so much has been going on lately, I had to share just one. I haven't posted anything on my blog since March and I am so sorry for that! At the end of March I was hospitalized for a rupture in my abdomen that caused some internal bleeding. It was a rough month, but I am doing great now. Then in May, I graduated from college and that was incredibly surreal. A week after I graduated, I moved out of Asheville, which was really hard. I am seriously going to miss my beautiful, eclectic home of Asheville, NC. As a tribute to one of my favorite places in the world, where I was lucky enough to live for four years, today I am writing about all my favorite places to eat yummy vegan food in Asheville, NC. Unfortunately, because the food is so good, I usually wolf it down so fast that I forget to take a picture (some of the pictures I am using instead are down right terrible, and I sincerely apologize for this!), so you will just have to go to Asheville to see how amazing all the food looks!
Plant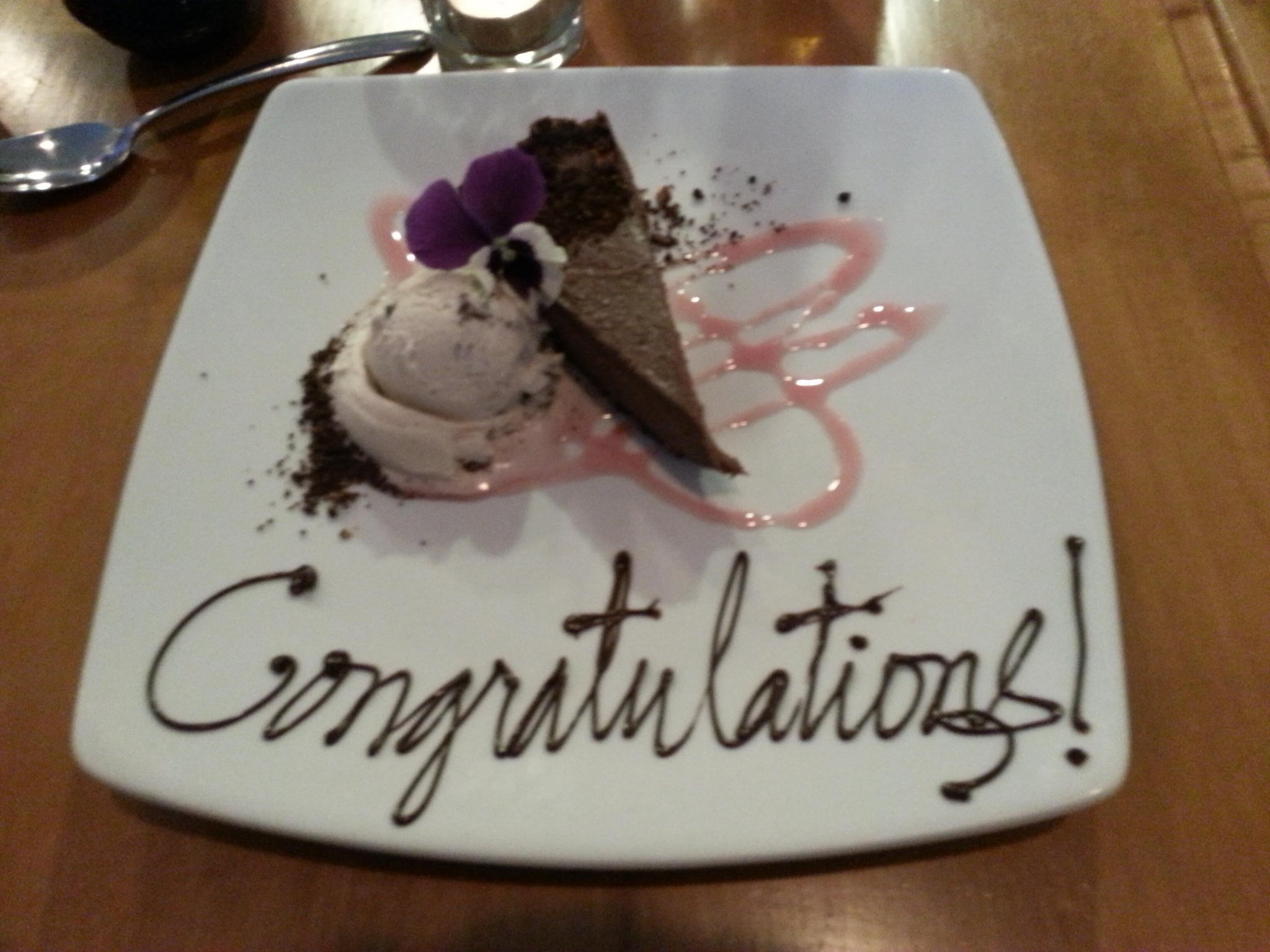 Plant is all-vegan and a little more upscale. I went here for every birthday and special occasion celebration. The menu changes, but there is always some sort of risotto, which is what I get every time I go because it is sooooo good! The picture is of a slice of blackout pie and peanut butter crackle ice cream that I had when I went with my family to celebrate my graduation.
www.plantisfood.com
Rosetta's Kitchen
Rosetta's Kitchen is like healthy comfort food. My favorite is their house-made veggie burger and their sweet potato fries. They are mostly vegan, though they do have cheese in a few dishes, but everything can be "veganized". They have two locations, one downtown and one on the UNCA campus for easy access for college students.
www.rosettaskitchen.com
Laughing Seed Cafe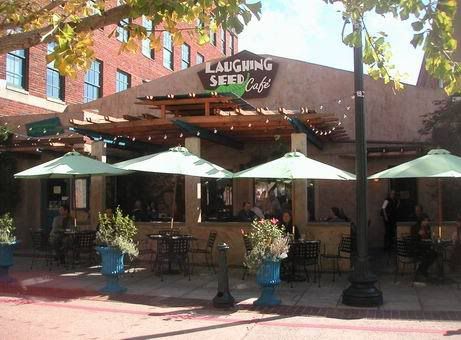 This all-vegetarian restaurant is located on the adorable cobble-stoned Wall Street. Everything is good here, but I go for the raw spinach-pesto manicotti. It is filled with cashew ricotta cheese that is literally to die for.
http://laughingseed.jackofthewood.com/
Veghead
Veghead is an all-vegetarian drive-thru fast-food place. It is like healthy fast food...and it's really good. My favorite is the avocado hummus wrap, but they have everything from a korean bbq tempeh wrap to thai cabbage slaw.
www.vegheadsasheville.com
The Hop Ice Cream
All of The Hop's ice cream flavors are homemade, including their large selection of vegan flavors! The flavors change every week and they have a lot of very unique flavors such as strawberry basil.
http://thehopicecreamcafe.com/
Mela
Though not an all-vegetarian establishment, this restaurant is the best Indian in all of Western North Carolina.

They have a huge vegan selection and my favorite time to go is during lunch when they have a big buffet that is, in fact, mostly vegan.
http://melaasheville.com/
Salsa's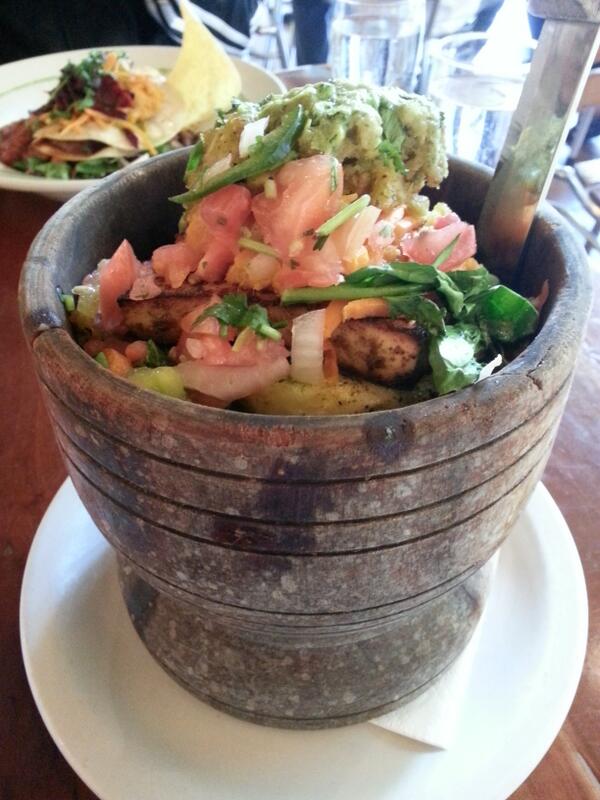 This restaurant I do have a picture for, of my favorite entree: the pom-pom-pom. This Mexican-Carribean restaurant is located downtown and is also not all-vegetarian. Everything can be veganized though, and everything is oh-so good and full of flavor. Their secret? That wooden bowl in the picture was hand-carved by the restaurant owner's cousin in Puerto Rico.
http://www.salsas-asheville.com/
Nine Mile
Nine Mile is also not all-vegetarian and is also Caribbean food. Everything on the menu can be made vegan and is incredibly flavorful and full of spice. I love the "more fyah!" entree. It is located in Historic Montford in the heart of North Asheville.
http://ninemileasheville.com/
Cafe Kathmandu
This Himalayan restaurant fits right in with all of the unique cuisine that Asheville provides. It is mostly vegetarian and like Mela, has a delicious lunchtime buffet with lots of vegan options.
http://cafekathmanduasheville.com/
Noi's Thai Kitchen, Thai Orchid, and Thai Basil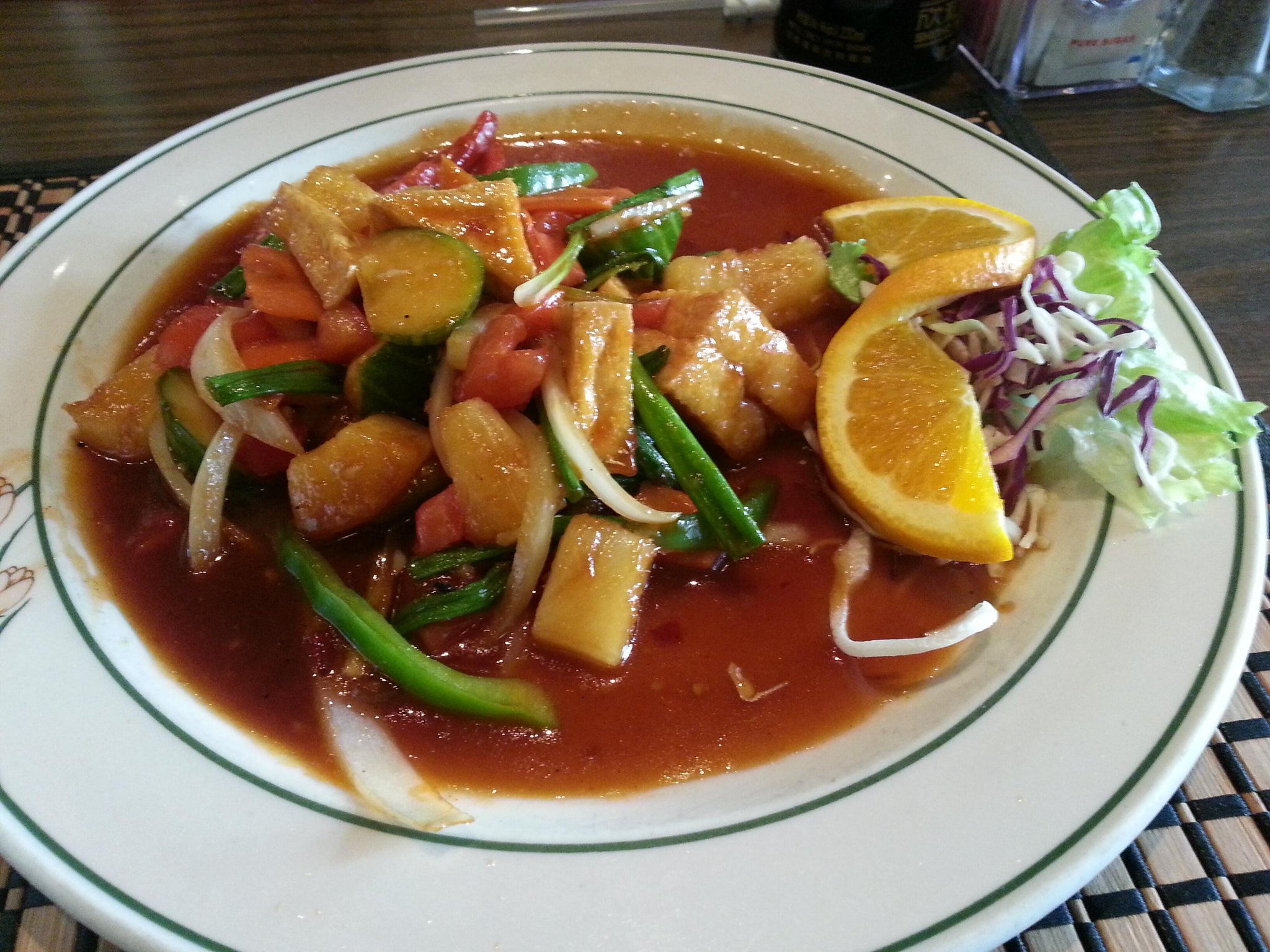 So there are a million awesome Thai restaurants in Asheville and of all of them, these three are my favorite. Noi's Thai Kitchen holds a special place in my heart because this was me and boyfriend's go-to takeout place that we ate at almost every week for four years. I love the food, the atmosphere, and the people there. My favorite dish is the horapa with tofu. The picture above is of the sweet and sour entree at Thai Orchid, another delicious restaurant that is located downtown. Thai Basil is also downtown and offers an array of lovely Thai dishes as well. As with all Thai and other Asian restaurants, be sure to ask if fish sauce is used in the sauce of the entree you want and if so, see if it can be substituted with something else.
http://www.suwanasthaiorchid.com/
http://thaibasilnc.com/
(Noi's does not have a website, but here is their menu)
http://www.allmenus.com/nc/asheville/131264-nois-thai-kitchen/menu/
Urban Burrito
I have no idea why the logo is being weird and not going right under the name, but anyhow, Urban Burrito is the perfect poor (and vegan) college student eatery for a nice big burrito. There is nothing like a giant veggie burrito to make your day.
http://www.urbanburrito.com/
Asheville Pizza and Brewing Company
This place is no less than awesome. What is better than vegan pizza and vegan beer? Pretty much nothing. They also have all sorts of other food and, the best part, a $3 a ticket movie theater in the back that plays all the movies that have recently left the big theaters, as well as some weird movies haha (but what would Asheville be without a little weird?!).

The walls of this restaurant are full of cool murals like the cantina scene from Star Wars. This is a great casual place to take your non-vegan friends and family.
http://ashevillebrewing.com/
Lastly...
Be sure to check out The Chocolate Fetish for some vegan peanut butter cups and French Broad Chocolates for an assortment of delicious vegan chocolatey treats, like their vegan truffles.
www.chocolatefetish.com
www.frenchbroadchocolates.com
If you need a health food store, Greenlife has you covered, as does Earthfare and the French Broad Food Co-op.
http://www.wholefoodsmarket.com/stores/asheville
https://www.earthfare.com/
http://www.frenchbroadfood.coop/
Well, I hope by now you are planning your amazing trip to Asheville, NC. While you are here, don't forget to climb a waterfall in Pisgah National Forest, shop in the eclectic shops of downtown, hop on an historic red trolley tour, walk through the gigantic Biltmore House, and of course get a massage at the Grove Park Inn!